Hello there! I'm Meg and I usually write about life and family and photography along with other shenanigans over at
Me with the Three.
But today I thought I'd share some thoughts on seasons of life, and what we've learned along the way.
So what do Ecclesiastes, The Byrds, and C.S. Lewis have in common? (Do you even know The Byrds? Please say yes!) They don't really have much in common normally, but in my mind they do! And that sometimes is a scary place! Stick with me... hopefully my thought process will make sense!
When I started thinking about seasons, the first thing that came into my mind was the song from The Byrds... "to everything turn, turn, turn. There is a season turn, turn, turn..." Remember that one? Well, it's taken from Ecclesiastes, where the author (supposedly King Solomon) is talking about life and how things continue to keep moving forward and all the feelings and realizations a life lived full of wisdom brings.
Overall, the book kind of goes back and forth, from seeming to ask questions, to posing wise thoughts, to the author having some sort of peace in the vastness of life and creation. I don't know about you, but when I read through it I really understood where the author was coming from, in jumping back and forth from feeling "stable" and peaceful to having all kinds of questions, to really not understanding much about anything.
Let me give you a little of our story. After The Hubs and I got married, we had to move away to a place we didn't like. (I hated. He prayed that I would hate it less.) Eventually I did hate it less and less, and then one day (obviously it was the Holy Spirit) I felt peace and knew this was home now. Then we found community and church and our place. Next came trying to grow our family, infertility, adoption process, a job change into a ministry position, a new baby, massive growth of our church/ministry, the call to adopt again, another new baby, feeling like it was time to leave the ministry job, another move, another new job, another move... and that brings us up to now.
Man. Looking back, in the midst of those times, it felt pretty scary and that feeling of doubt and insignificance surfaced in some strange ways. In the middle of it we had some great wise friends who helped us see that all of it was God's doing, and they kept us grounded reminding us that life is full of seasons. Some of them last longer than others, some are harder than others, but if you can keep that mindset and rely that God really is in control, peace comes.
We knew God was moving, and now we see how insanely God used all of our seasons to grow and change us into who we are today. In the midst of it, you sometimes lose sight of knowing God is in control and is the author of all things. We've had the amazing blessing of seeing it so many times throughout the seasons we've been in.
We're so thankful for the seasons, good and bad, that we've been in, and look forward to the ones in the future... raising kids, finding our new community, all the while seeking to understand and see God's plan in all of it. But that's what the author of Ecclesiastes was talking about when he wrote:
16 In my search for wisdom and in my observation of people's burdens here on earth, I discovered that there is ceaseless activity, day and night.
17 I realized that no one can discover everything God is doing under the sun. Not even the wisest people discover everything, no matter what they claim.
He was talking about how everything continues to move forward, and I think ultimately reminding us that God truly is in control and has an insanely awesome master plan for all this. For us, we've learned that trusting Him is best, because we can't figure it out. We've been so grateful to see a piece of that.
And because of us realizing God's amazing glory and how beautiful He has woven our lives, we now have the mindset that C.S. Lewis wrote about when he said "There are far better things ahead than what we leave behind." We now look forward to what God has in store, with not as much fear and trepidation, because we've seen that even if things seem hard or scary, it's just a short time, and it will pass. And in our circumstances, they moved into things we could never have imagined for ourselves.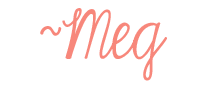 Blog : Instagram : Twitter : Pinterest