These past few weeks, I've been joining in over at She reads truth for the lent devotional. The past week or so it's been focusing on the book of Jonah. At the beginning of the book, God asks Jonah to go to a city and tell people about his word. But Jonah doesn't trust what God is telling him so he runs away to a city called Tarshish and ends up on a boat. The weather starts to get bad and the people on the ship ask him what has brought this on and he says that it is him, so they throw him overboard. In the meantime he is swallowed up by a fish and is in the belly of it for a while. After that he asks God for forgiveness and ultimately ends up doing what God had planned for him all along.
This got me thinking about the times that so many of us (my self included) have been so quick to run because we were scared of what God is telling us to do. We are afraid of going outside of our comfort zone and going into the unknown. I know I felt that way when I was considering where to go to Grad school, the fear of not knowing what it's going to be like and not knowing anyone there. Yes i can say there have been times this semester where I have wanted to run just like Jonah did. But as I have stuck it out and followed God's plan, it has been more than I could even imagine.
It's in those times when we feel uncomfortable that God uses us for something greater than himself. He reassures our scared and trembling selves, and lets us know that with him everything will be okay. As long as we let him be in the drivers seat, everything works out. And we remember that his plans are better than our own, or at least I do.
So as you encounter those "running" moments remember that with God by your side everything will work out, just as it did for Jonah.
Hello all!
We are very excited that today we are co-hosting the "Faith & Fellowship" Linkup with Susannah at
Simple Moments Stick
and Aleisha at
Britches & Boots
!
We hope that you will join us by linking up!
Here's what to do...
Link up any and all posts you've written in this past week (or dig into your archives!) that are an encouragement for the Christian community! We can't wait to read your testimonies, find out what God's doing in your life, or learn what you're learning in your quiet time!
Faith and Fellowship Guidelines
1. Link up a post (not just the link to your blog) from the week that shares what the Lord's been doing in your life or speaking to you.
2. Put the button on your blog post or blog so that others can hear about this wonderful group of Godly women.
3. Visit as many blogs as you're able and get to know your sisters in Christ!
4. Share this blog hop on social media using #faithandfellowship or pin the button on pinterest.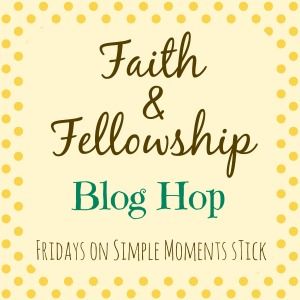 Your Cohosts:
If you'd like to cohost in the future, please email Susannah at susannah.kellogg (at) gmail.com